---
Cointraffic, the industry leader in crypto advertising, has just unveiled its innovative Cointraffic Marketplace.
This new platform offers Web 3.0 teams a one-stop solution for all their marketing needs, presenting exclusive and impactful ad placements aimed at a clearly defined target audience across a range of top crypto outlets.
These include Etherscan, Blockchair, BeInCrypto, TheDefiant, Cryptocompare, Coin360 and Crypto-Insiders.
Understanding the value of its clients' time, Cointraffic ensures a smooth and speedy campaign set-up and launch process.
This marketplace isn't merely for marketing experts. It has been meticulously crafted to cater to novices in the marketing field and teams lacking dedicated marketing departments.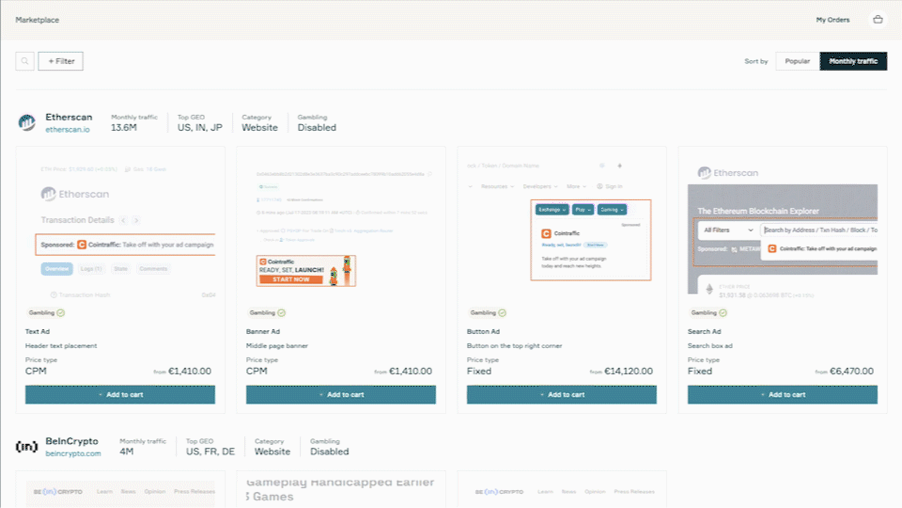 Moreover, the Cointraffic team takes charge of website communication tasks, guaranteeing comprehensive support that catapults your campaign swiftly to its optimal reach and impact.
Juri Filatov, CEO of Cointraffic, said,
"We take immense pride in launching our marketplace. Our objective is to equip advertisers with unmatched ad placements, extensive audience reach and industry-leading traffic conversion rates."
The new marketplace eliminates the hassle of exploring numerous ad opportunities, waiting endlessly for quotes and fretting over missed deals.
Web 3.0 advertisers can now easily compare the market, acquire ready-to-launch marketing campaigns and unveil exclusive new placements from a user-friendly hub.
Cointraffic has been an influential player in connecting crypto users through potent outreach strategies catering to the most extensive and varied crypto audience for years.
The introduction of the marketplace enhances this further, enabling advertisers to deploy captivating ads on their preferred platforms, fostering lasting synergies with their target audience and guaranteeing prime visibility precisely when and where it's required.
Cointraffic recognizes the power of distinct ad placements. Through the marketplace, access to these exclusive placements is amplified, and the process of securing such opportunities is simplified.
Advertisers can seamlessly manage consolidated marketing initiatives across their preferred channels while uncovering new opportunities and potential audiences in the Web 3.0 ecosystem.
Embrace the advantage of high convertibility.
The Cointraffic Marketplace simplifies securing premium ad placements, allowing creators to focus on building while ensuring their work garners extensive exposure.
Experience the difference with traffic that converts effectively.
Discover the new marketplace, contact the Cointraffic team and let the world see your accomplishments.
About Cointraffic
Cointraffic, a digital advertising pioneer in the crypto space, has an impressive track record spanning over nine years.
Their deep-rooted understanding of the crypto market enables them to offer unmatched advertising solutions, connecting businesses with the largest and most engaged Web 3.0 audience.
With over 17,000 successful campaigns and partnerships with more than 500 key crypto outlets, Cointraffic's performance speaks for itself.
They have collaborated with prominent names in the industry, such as OKX, KuCoin, Binance, Bitstarz, Crypto.com, Bybit and Huobi, among others.
This content is sponsored and should be regarded as promotional material. Opinions and statements expressed herein are those of the author and do not reflect the opinions of The Daily Hodl. The Daily Hodl is not a subsidiary of or owned by any ICOs, blockchain startups or companies that advertise on our platform. Investors should do their due diligence before making any high-risk investments in any ICOs, blockchain startups or cryptocurrencies. Please be advised that your investments are at your own risk, and any losses you may incur are your responsibility.
Follow Us on Twitter Facebook Telegram
Check out the Latest Industry Announcements