From a new take on Bitcoin's market potential to XRP's increasing volume on a key crypto exchange, here's a look at some of the stories breaking in the world of crypto.
Bitcoin
The CEO of blockchain and crypto hedge fund Pantera Capital says he believes Bitcoin is poised to disrupt dozens of industries and climb to new all-time highs.
In an interview on Real Vision Finance, Dan Morehead explains why he remains bullish on the leading cryptocurrency.
"When you have a disruptive technology, they call it a category killer. Bitcoin is a serial killer. It's going to go through 40 or 50 different industries, wealth storage, cross-border money movement, property titles, boating rights, identity. And those are all the biggest use cases on earth.
And if you think about somebody inventing a new medical device and there's only 100,000 people on earth who have that condition, it's pretty capped on what that medical device is worth. This is going after the biggest things – three hundred billion electronic payments, remittance, wealth storage. Gold is worth a $7 trillion market cap. And even currency. Currency is a $100 trillion market cap. And all of the cryptocurrencies combined are a quarter of a trillion dollars. And that's the leverage I'm talking about." 
Because of the high risk in the volatile crypto markets, Morehead says he believes investors should only allocate an extremely small portion of their portfolio to BTC. But he says Bitcoin's history shows ignoring it altogether is not rational.
In the long run, he says BTC is still poised for another 10-50x surge, which would place its price at about $350,000 based on today's price.
"I don't think it was 100% certain that Bitcoin was going to go up [when it's price was] at $200. And even here, I don't think it's 100% certain it's going to go up.
But on a risk-adjusted basis, it's a fantastic trade. Because if you say it's a bad trade at $200 and it actually goes to $10,000, you needed to be 99% sure it was going to go to zero when it was at $200 to have it not be a rational trade. And that's my view. It's speculative. It could certainly go down. It's had some periods where it goes down 80% in six months. But it could go up 10x, 50x, numbers you just don't see in any other asset. And that's the asymmetry that I think makes it a great trade."
Ethereum, EOS, Tron
The dollar value of cryptocurrency moving through EOS-based decentralized apps (DApps) is ahead of both Ethereum and Tron.
According to DappReview, $8.7 million worth of EOS moved through DApps on the network in the last 24 hours, compared to $4.8 million worth of TRX and $3.0 million worth of ETH on their respective networks.
#DApp Daily Report:

?Volume#EOS ?8.7M (3.4M EOS)#TRON ?4.8M (341.7M #TRX)#ETH ?1.9M (13K ETH)

?User
EOS 29.4K
TRON 20.3K
ETH 13.5K

Top 3 DApps by volume
?@WhaleExchange (EOS)
?@eosbiggame (EOS)
?@WINkorg (TRON) pic.twitter.com/4dWIHu4dRL

— DappReview (@dapp_review) December 15, 2019
Ripple and XRP
XRP's pair with the Philippine peso just hit a new all-time high on the crypto exchange Coins.ph.
According to the Liquidity Index Bot, the pair has been steadily on the rise since the start of the month.
XRP investors are paying close attention to the pair's liquidity because Coins.ph is one of Ripple's On-Demand Liquidity partners.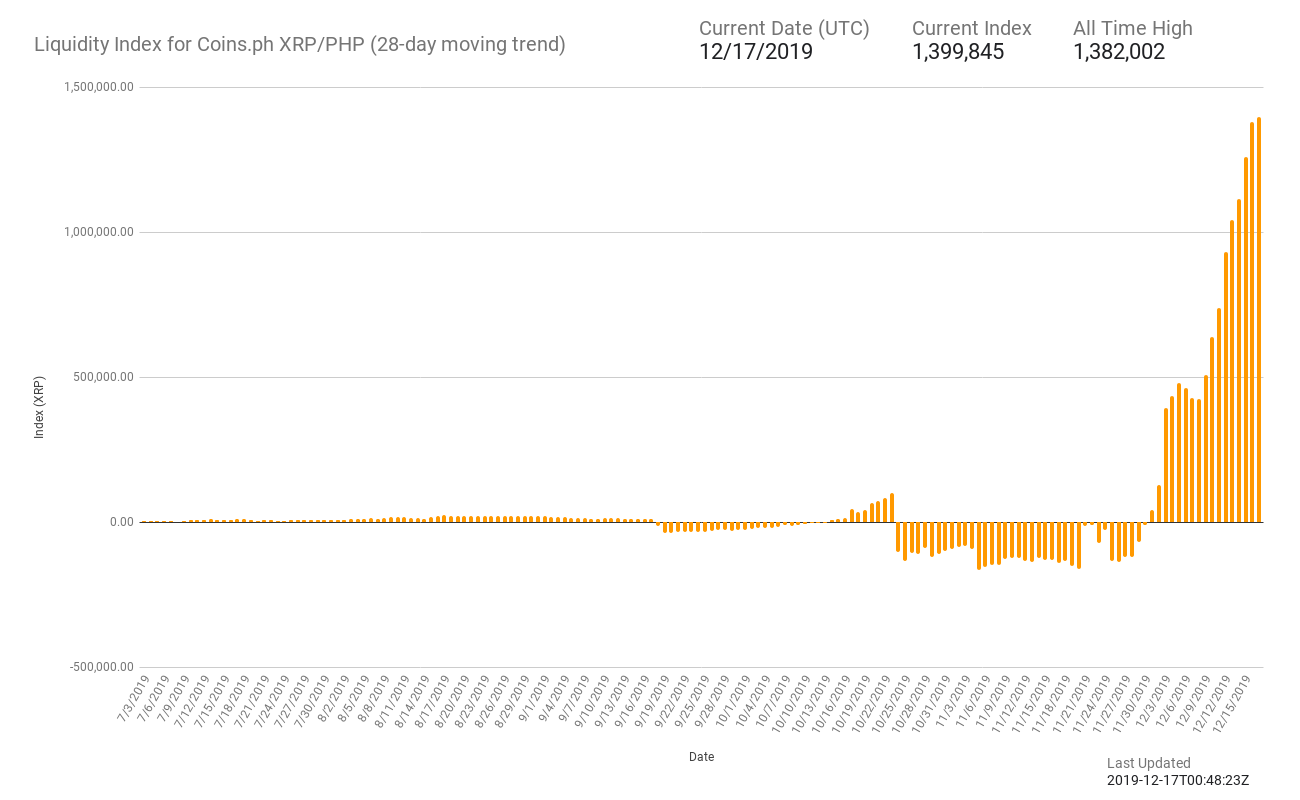 The exchange helps power payments between the Philippine peso and fiat currencies, and rising volume could indicate increasing adoption of Ripple's cross-border payments product.
[the_ad id="42537"] [the_ad id="42536"]